World Patient Safety Day
World Patient Safety Day is one of the World Health Organization (WHO) global health days. In 2023, it's taking place on September 17th.
"Engaging patients for patient safety" is this year's theme. Evidence shows large improvements are made when patients are actively involved in their care,1,2 including:
Safety
Patient satisfaction
Adherence to care
Health outcomes
This post examines the role an electric profiling hospital bed plays in patient engagement and safety.
Introduction
Early mobilisation is key to recovery from illness. However, it can sometimes be challenging to overcome both mental and physical barriers to achieve this. Someone who has fallen, for example, may have pain due to injuries sustained, and be reluctant to mobilise in fear of falling again.
To achieve early mobilisation, both the patient's mindset and equipment being used must be considered:
Actively involving the patient in decision-making and practical aspects of their care helps to empower them, giving them choice and control.
Providing the right equipment helps to maximise safety, which can reassure the patient and reduce the risk of falls.
Patient Engagement and Safety – How Can an Electric Profiling Bed Help?
An electric profiling hospital bed is an essential piece of equipment for early mobilisation and rehabilitation.3 But not all electric profiling beds are created equal when it comes to patient engagement and safety. Some key questions to consider are:
How easy are the bed controls to use?
How easily can the control buttons be seen?
Is the handset easy to access by the patient when they need it?
How low does the bed go?
Does the bed have features built-in to assist with mobilisation – for example a grab handle?
Simple, easily visible, and accessible controls allow patients to take responsibility for their own repositioning. This gives them control and the ability to move more frequently, which will ultimately help their recovery.3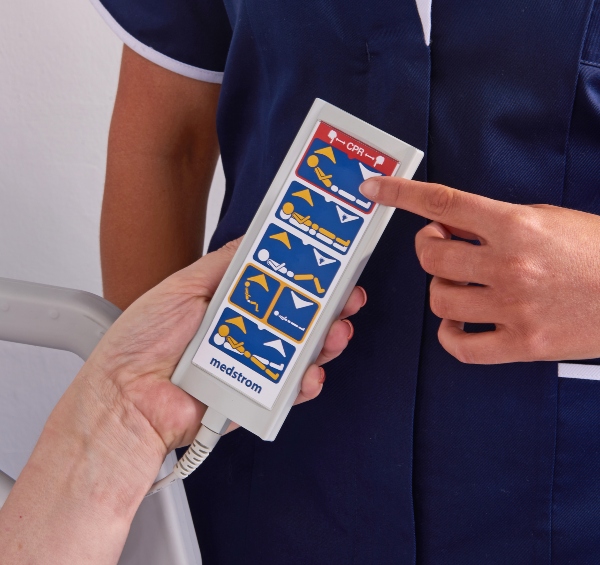 Beds which achieve an ultra-low height allow safe mobilisation of more patients, as well as reducing falls injury risk.
Once the patient is ready to mobilise to and from the bed, a built-in hand grip can help with balance and steadying. A bed such as Medstrom Solo+, which has a programmable, custom egress height, ensures the patient always starts their stand from the right height, with their feet flat on the floor.4 Features such as these improve safety, reduce the risk of falls, and help to instil confidence.
Many patients will never have used this type of bed before. But when they see how it can both benefit and empower them, they can naturally become engaged in their own safety and care.3
References
Hickmann, E., Richter, P. & Schlieter, H. All together now – patient engagement, patient empowerment, and associated terms in personal healthcare. BMC Health Serv Res 22, 1116 (2022). https://doi.org/10.1186/s12913-022-08501-5

Martindale D (2021). Calculating bed height for hospital patients using popliteal measurement. Nursing Times [online]; 117:10