Medstrom Milestone: 10,000th UK Manufactured Hospital Bed
Medstrom recently celebrated a remarkable milestone in the company's history, with the 10,00th UK manufactured hospital bed rolling off its process line.
The manufacturing site, which neighbours its headquarters in Castle Donington, East Midlands, was only established in 2019 and is the only UK-based manufacturer of hospital beds within the healthcare sector. Since its inception, Medstrom has built, shipped and implemented beds into hospitals throughout the country and overseas, delivering improved patient outcomes.
Locality supports customer-led innovation
Uncertainty surrounding Brexit prompted Medstrom's commitment to start manufacturing in the UK, a decision that aimed to deliver an improved supply chain and product offering for customers. Strong collaboration with clinicians has been evident with the evolution of hospital beds rolling off the Medstrom conveyor belt – beginning with the 5000, before introducing the innovative Medstrom Solo to the market in 2020.
This locality to customers, having the ability to invite them to site and understand their needs has helped shape the direction of research and development. Innovating products that provide solutions to the many daily challenges faced by the healthcare sector.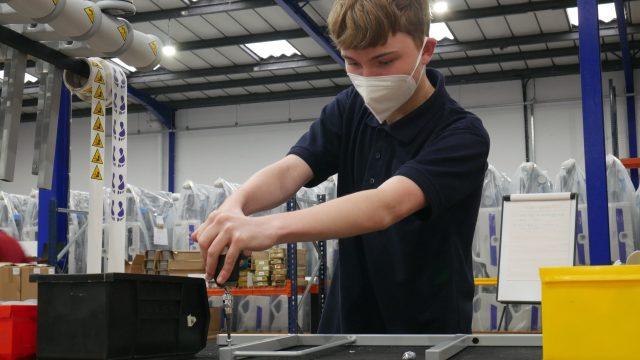 As well as nearly 90% of the supply chain for the Medstrom Solo bed being UK-based, with many components sourced locally, this has also supported jobs in the local area. Matthew Stonton, Capital Operations Director at Medstrom added:
"We have created a lean and flexible manufacturing process at Medstrom that is complemented by a brilliant team with a wealth of experience and know-how. It has been a pleasure to add our Apprentices into the mix, showing the continued development we are making. I'm so incredibly proud to have reached our 10,000 bed milestone and I'm even more excited about the direction we're headed."
Importance of working with a UK manufacturer
Medstrom's 10,000th UK manufactured hospital bed was part of a fleet destined for University Hospitals Leicester NHS Trust, to support improved patient outcomes. Following the first round of implementations, here are their thoughts on how the close proximity of a manufacturer and supplier has benefited the Trust.
Nick Howlett – Health and Safety Services Manager, University Hospitals Leicester:
"In terms of equipment selection, the major thing you have to keep in mind is your patient and for me, the Medstrom Solo bed ticked all the boxes.

"Actually being able to work with a manufacturer that is less than 20 miles away is extremely beneficial for us. It means we are much closer to the manufacturing site and we can nip just up the road and speak to the people who are involved in the design and productivity."
Helen Walker – Contract Management Officer, University Hospitals Leicester:
"As part of making an informed decision at the start of our investment, we were able to come and visit the site where the manufacturing process took place.

"You could literally see them going along the manufacturing process and watch a live construction of a bed. That was really, really, reassuring! It all adds to a bed design that supports our Trust and obviously it's great to be supporting British industry and the local economy."
Book a visit to come and see your beds being built. Alternatively, discover more about our manufacturing process HERE.