How to Measure Chair Seat Width with a Bedbound Patient
The seat width of a chair must be the right size to provide safe support and aid recovery. A patient chair which is too narrow can cause discomfort and skin damage. But a seat which is too wide may not provide enough support.
Whilst neither of these are desirable, a too narrow chair is often more problematic:
It will increase the risk of pressure damage if the patient's thighs/hips press against the chair arms.
If the patient gets "stuck" it can be very difficult to apply a hoist sling or move the patient, increasing the injury risk to both staff and patient.
This post shows step-by-step how to obtain a chair width measurement for a patient who has so far been nursed in bed.
Seating Assessment Steps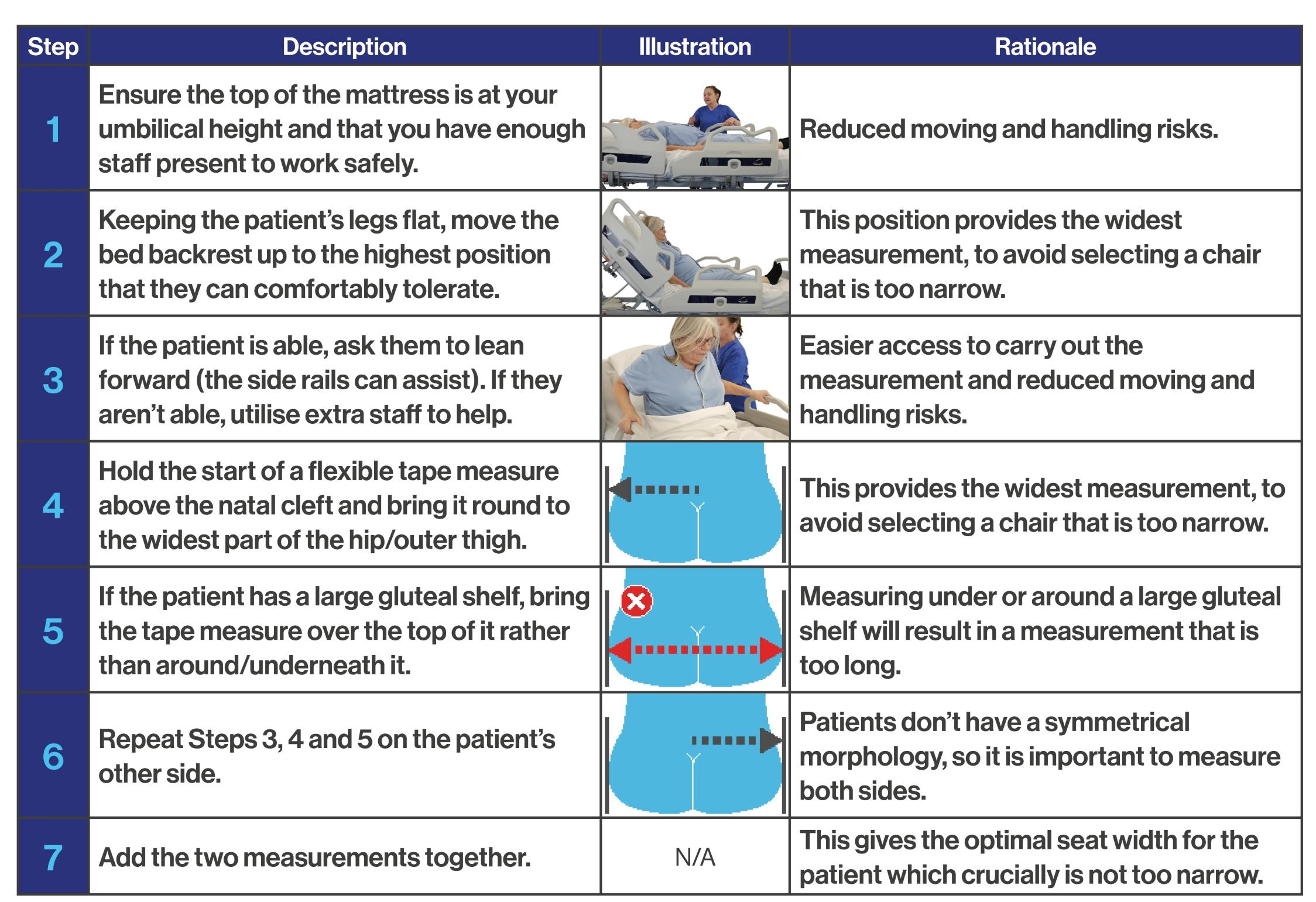 Summary
Assessing a patient for the correct seat width when there is no current means of sitting them out of bed isn't an exact science. Sometimes, it can result in the incorrect chair size being initially installed.
However, the advantage of the method above is it errs on the side of caution and least risk. A chair that is too wide is less of a risk than one that is too narrow.
In some cases, the chair may be the correct size but not liked/suitable for the patient. This can't be anticipated until after it's been tried. Once the patient is sitting in a chair, as long as it's not too narrow, you'll be able to measure and assess them more fully to ensure the replacement is optimal.
Click here for a guide to measure a patient for seating who is already out of bed and in a chair.
Common Issues with Seating
Chair seat is too narrow/wide, shallow/deep, high/low.
Safe working load is insufficient.
Inadequate gluteal shelf space/support.
Inadequate (or non-existent) head and foot support.
Click here for a more detailed discussion about these issues.
Accurate measurements, combined with a holistic assessment, will avoid many of these problems. This will help to ensure, as far as possible, that the right patient is on the right chair at the right time.