Medstrom Launches New Interactive Academy Learning Space
Clinical innovation, evidenced-based practice and education are at the heart of Medstrom's philosophy. These three elements are front and centre in its newly unveiled facility – The Medstrom Academy.
This is a purpose-built and innovative space, designed to deliver an unforgettable and immersive experience for visiting healthcare professionals. Deborah Newcombe, Clinical Director for Medstrom, was heavily involved in the launch of Medstrom Academy and noted,
"Over the last year we have been working hard to create an educational centre that marries clinical challenges with evidence and solutions. It is really exciting to be able to share such a unique space with our colleagues throughout the healthcare sector!"
Clinically led content
Medstrom Academy is divided between four different clinical challenges, with each area exploring the financial and physical impacts felt by the NHS and its patients. These areas include pressure ulcers, immobility, falls and safe mobilisation, and plus-sized patients. Each area is supported with industry evidence and statistics referenced using credible sources, such as clinical journals and articles.
Deborah Newcombe explains,
"Using referenced materials ensures we align as closely as possible to the clinical objectives of our visitors. We encourage people to use the Medstrom Academy as an educational tool. Coupled with the launch of our CPD accredited courses that we can deliver in the Academy, we hope our new centre will become a helpful part of visitors' professional development."
Importantly, in each area there are various interactive elements on display throughout the learning space, including empathy suits. Deborah adds:
"We wanted to really immerse people into the individual clinical challenges that confront the NHS every day. Being a very practical learner myself, having the ability to experience a situation or condition from a patient's perspective, makes learning far more impactful.
"There are two suits available to achieve this, one for visitors to experience frailty via an age-simulation suit, and the other to experience body morphology via a plus-sized patient suit. For example, with the help of the age simulation suit, visitors can experience first-hand decreased mobility and diminished physical senses, such as hearing and sight. Altogether, it puts into perspective the challenges that older patients face, and the increased risks associated with simple tasks such as mobilising from a bed safely. By putting visitors in the patient's perspective, we can then educate how to use products correctly, and demonstrate why selecting the right specification of equipment, such as a bed frame, is so important for both the patient and the caregiver".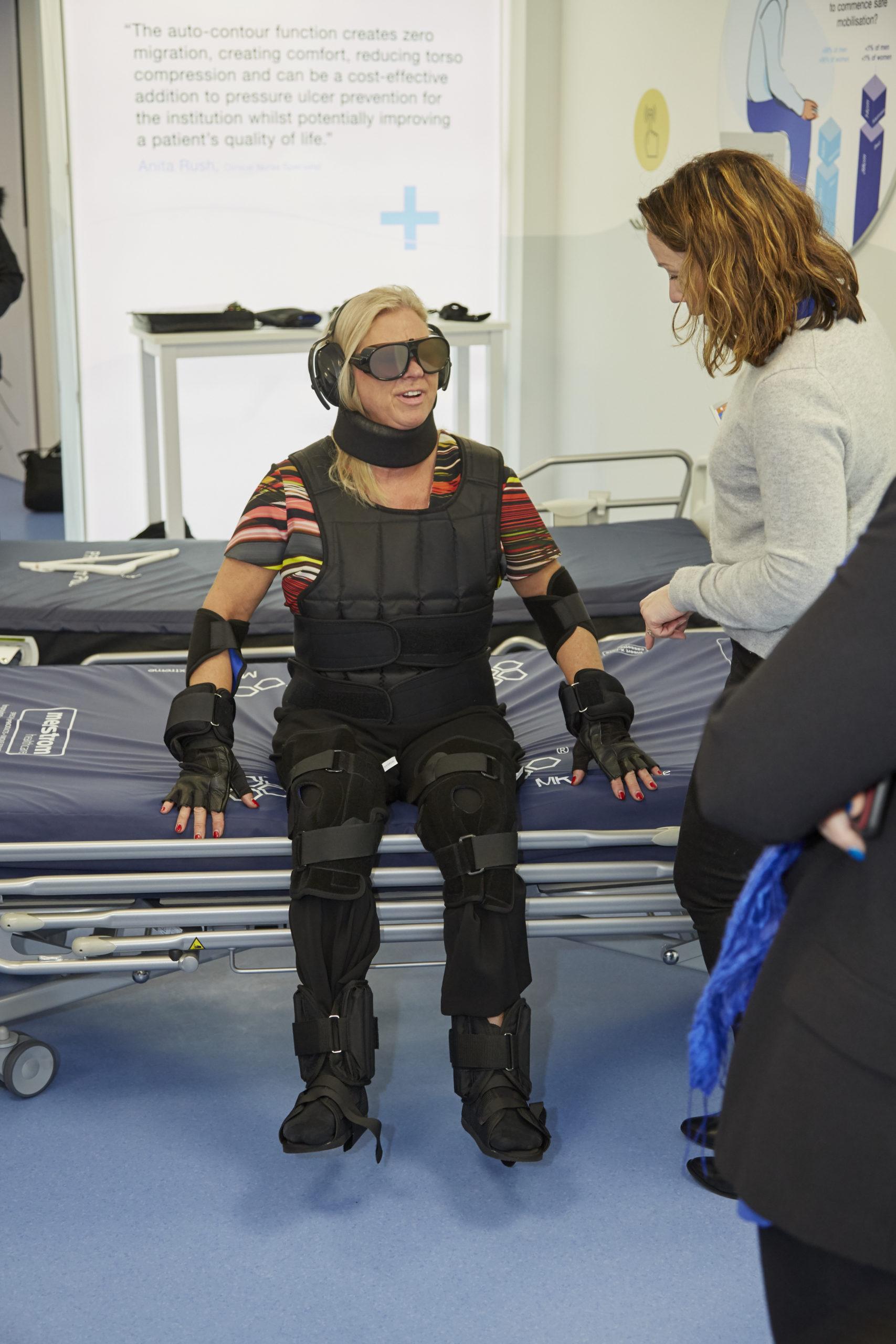 Natalie Harrison, Product Manager for Medstrom, also comments on the design of Medstrom Academy,
"A lot of thought has been put into Medstrom Academy to make sure visitors get the most from their experience whether they're a visual, verbal or physical learner.
"Any company can create a 'showroom' to display their products, but being closely partnered with our customers, means we completely understand the challenges they see daily. By focusing on these from an educational perspective, we can easily prove how our products provide innovative solutions.
"Demonstrating innovation is very important to Medstrom; from product to service, and now the launch of the Medstrom Academy, we really care about adding value to NHS Trusts and Health Boards."
Meet your interactive companion
When you visit the Medstrom Academy, you're in control. Thanks to its open layout, you can easily journey through the various focus areas, pausing at what you find the most relevant. This is where your interactive companion introduces herself – Alexa.
Medstrom is among the first healthcare companies to utilise the technology in this way, as Amazon Alexa has been programmed to answer questions that are distributed throughout the various clinical areas. For example, "Alexa, where did the name Dolphin Therapy come from?". This allows visitors to learn independently whilst exploring the Medstrom Academy at their leisure.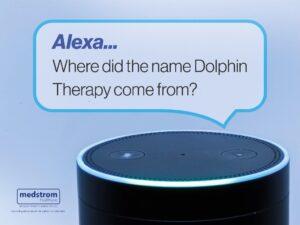 Free to use meeting space
Medstrom is also offering the upstairs meeting space within the Medstrom Academy as a free venue for recognised groups such as NBE, TVS, critical care networks, and of course NHS Trusts. Located close to East Midlands Airport and with local railway links, the centre offers an ideal location for regional study days, or hosting events in its spacious seating area.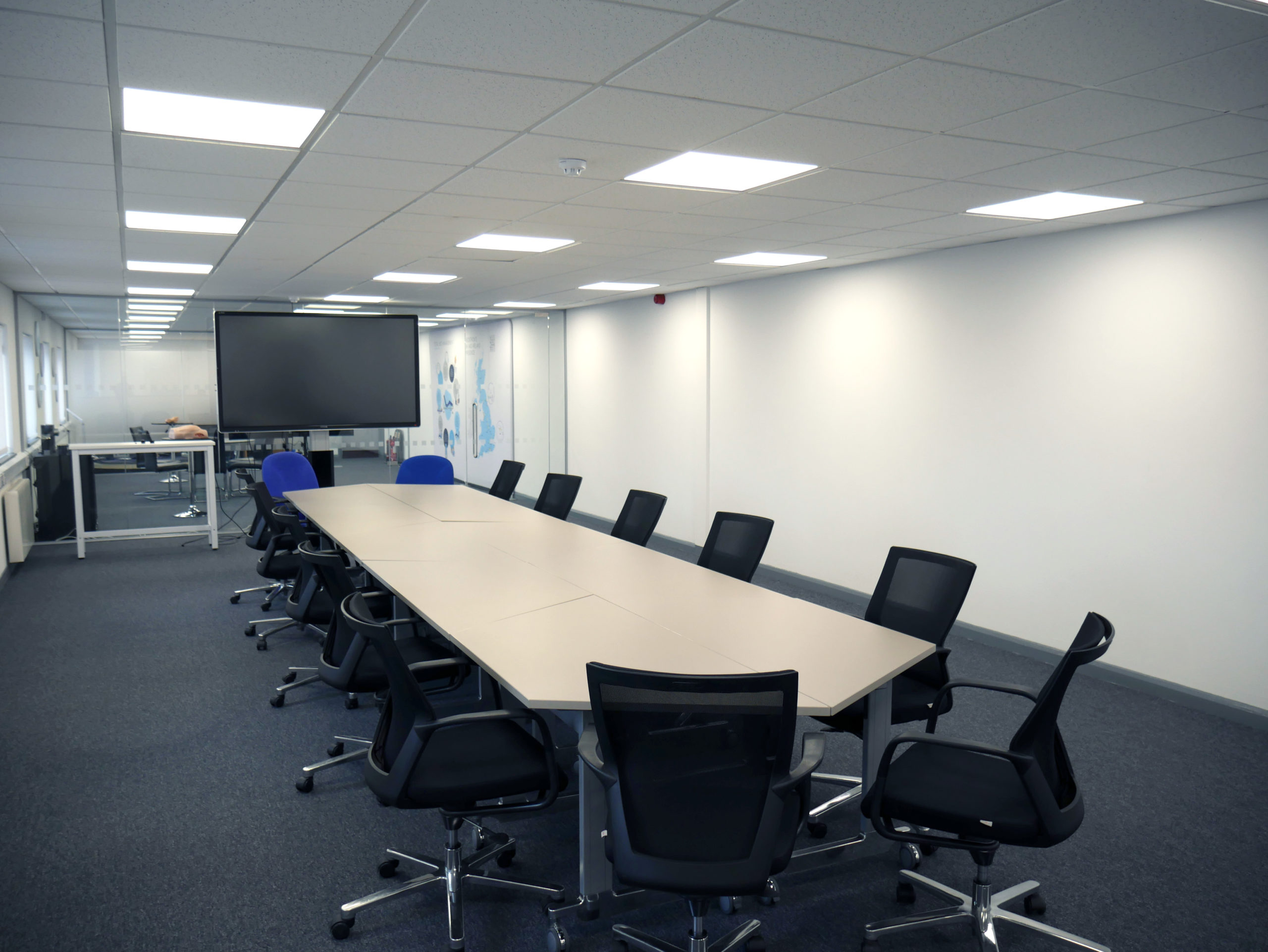 Interested in seeing the Medstrom Academy for yourself or perhaps using it for your next event? Simply contact 0845 371 1717 to speak to your local Medstrom representative.