Supporting Sustainable Healthcare Targets – Earth Day Pt2
Medstrom plays an active role in supporting healthcare organisations manage their resources sustainably. In recent years, the NHS has outlined long-term plans targeting key areas such as reduction in carbon footprint, air pollution, water use and waste management, which has allowed Medstrom to partner with Trusts and collaborate on suitable solutions. In the second part of our #EarthDay series, we look at the different avenues through which Medstrom supports sustainable healthcare targets.
Green & clean
One example is via Medstrom's decontamination service, that optimises the cleaning and disinfection of medical equipment to keep patients and caregivers safe. This incorporates innovative and highly effective Ozone technology, an environmentally friendly alternative to traditional laundry processes. It works at low or ambient temperatures, using oxygen-rich water to disinfect and destroy 99.999% of harmful micro-organisms, including MRSA, C.difficile spores and Coronavirus. Helping to deliver outstanding results, whilst reducing energy consumption and eliminating the use of harsh bleaching agents.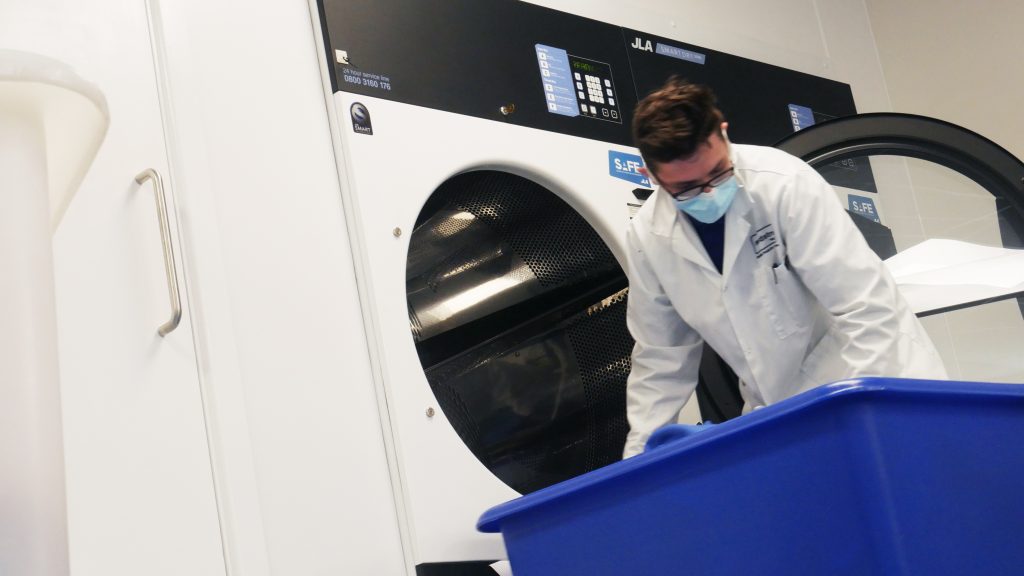 Recycling & rehoming
In addition, Medstrom has worked closely with healthcare organisations to uniquely manage and recycle redundant medical equipment, such as hospital beds. After coming out of use, the equipment is assessed, repaired and rehomed elsewhere around the world, supporting charities like MAHECAS UK in improving healthcare facilities and patient outcomes.
"To be able to support and enhance the healthcare services in countries like Malawi, whilst reducing the amount of equipment that goes to waste, is great for everyone involved" says David Belli. "The difference this makes to patients is fantastic to see and we are proud to have worked with various Trusts and Health Boards to further this sustainable initiative".

Reducing waste
Working in accordance with ISO14001 accreditation, Medstrom has been dedicated in evaluating work processes to further minimise its environmental impact and reduce waste. This has extended to the product decontamination process and eradicating disposable cloths, significantly impacting the amount of waste generated by the company. In addition, efforts to become paperless have intensified by calling a halt on printing brochures, instead encouraging staff to use digital wherever possible. Not only helping staff to work smarter, but more efficiently than ever before.
"These sustainable healthcare initiatives not only serve to reduce our environmental footprint but contribute to a healthier society. Which, as a healthcare supplier, is really our main priority" David adds. "Everyone at Medstrom is always looking for ways to innovate and push the company forward, and for me personally, it's really exciting to see what developments are in store for the years ahead".
Discover more about Medstrom's services and how the company collaborates towards achieving sustainable healthcare targets throughtout the UK and internationally.
References:
Oung, C (2019). "The environment needs to be higher up the NHS Agenda", Nuffield Trust comment, [Online]. https://bit.ly/3rBIMtq. February 2019