My Medstrom Journey: Pathways for Professional Development
As Medstrom continues to grow, an equal emphasis is placed on the professional development of our team. This means equipping people with the right skills in order to progress along their chosen career pathway. We caught up with three of our Medstrom family to discuss their journey with Medstrom and the importance of having role models with a business.

---
Has Medstrom offered you opportunities and routes for professional development and skill advancement?
NN: Yes, we have a dedicated Learning and Development Manager who is always offering courses and looking at ways to progress individuals. If there is a training requirement, the process is straightforward and Medstrom are incredibly supportive and encouraging.
SS: Yes, more than any other company I've known! The opportunities that have been made available are fantastic, really allowing me to develop my skillset. I've had huge support from all sides too, which has been great and has given me confidence tackling any challenges put in front of me.
BD: Throughout my career at Medstrom I have taken on various different remits, which truly broadened my understanding of the business, its operations and the health care industry as a whole.
---
Are there role models for you within the business and what's the importance of that?
NN: Where do I start? The culture at Medstrom is very much 'everyone is equal', so I truly believe everyone I cross paths with at Medstrom has their own strengths that I can learn from every day, therefore everyone is a mentor in some sense! I am particularly lucky that I work very closely with a number of senior management who I've built rapports with over the years and are now some of my 'go-to' people at Medstrom. They have guided me throughout my career, been pillars of encouragement and given me both professional and personal nuggets of advice that I soak up and use all the time to better my professional practice.
SS: There are plenty of role models within the business, with Emma Jackson & Becky Dolan being especially important to my development in the business. They are both amazing leaders; fantastic at their jobs; both focused, dedicated and role models to people like myself. I would definitely say it is inspirational.
BD: Along my journey there were lots of people that helped shape me professionally, so now I'm in a senior role I would like to think that I could be a role model to other women in the company. Particularly in demonstrating that hard work, plus a willingness to learn and take on new challenges will help in getting them to the positions they want to achieve.
---
Many of Medstrom's senior leadership team and Directors are women – how does this make you reflect on Medstrom as a company?
NN: I believe it shows that we are not a corporate orientated or hierarchical company and within the roots of our business/culture are caring clinicians where everyone is an equal. As long as you care about patients and want to do the very best for our customers is all that truly matters.
SS: What a statement to other organisations. A company willing to give equal opportunities regardless of gender and based on the value you bring the team.
BD: I am very proud to work for Medstrom, who I know are diverse in all recruitment and progression of existing employees.
---
What do you like about working within the healthcare sector?
NN: I love that the end-user of the products we supply are patients and that ultimately, we are improving the quality-of-life and care for lots of people across the UK and Ireland. It motivates me to do my very best for the wider goals of improved patient outcomes within hospitals and healthcare settings.
SS: The feeling of achievement when a job you've organised gets done, especially when helping out on implementations. I was heavily involved in organising the logistics for the implementations at King's College Hospital London and Oxford – these went incredibly well, plus the feedback we received 100% made it some of the best projects I have worked on.
BD: I enjoy the challenges it presents operationally and I like the knowledge that, at the end of it all, there is a patient that is benefiting for the products we have been able to supply.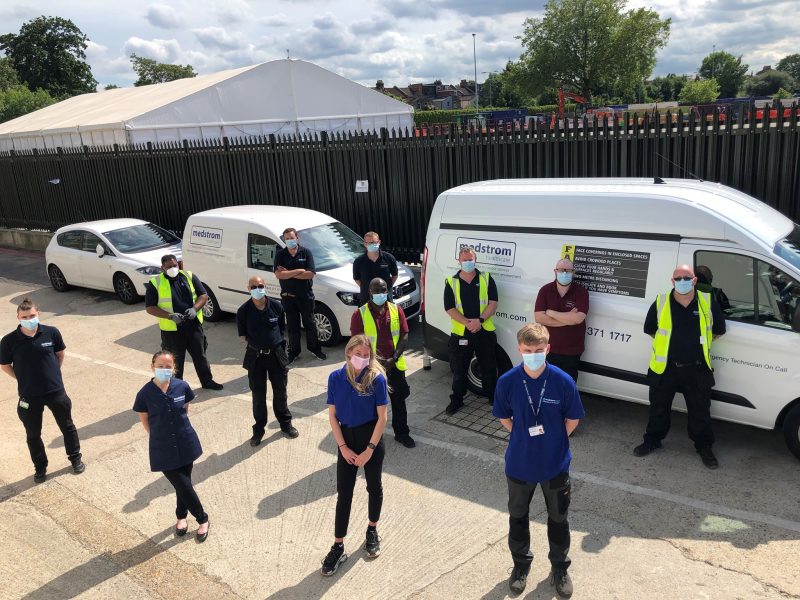 ---
Have these journeys inspired you? With a variety of career pathways and professional development opportunities available, you'll be sure to find your 'me' in Medstrom.