Meet the Speakers: 'Dark Skin Tones' Webinar
Throughout our webinar series, Medstrom has worked closely with expert speakers who are incredibly passionate about their subject matter. The panel of guests in Medstrom's forthcoming webinar exemplify this perfectly, with each named as co-author in the recent BPS (Best Practice Statement) 'Addressing skin tone bias in wound care'.
Discover a bit more about each of our webinar speakers below: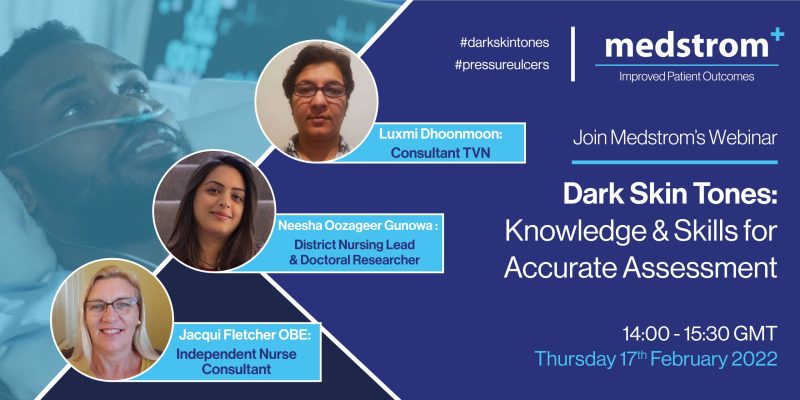 Jacqui Fletcher OBE:
Among Jacqui's many roles she is an Independent Wound Care Consultant, Editor of the Wounds UK journal and a Senior Nurse Advisor for the Stop the Pressure Programme / Clinical Lead for the Pressure Ulcers National Wound Care Strategy.
Prior to this, Jacqui was the Clinical Strategy Director at the Welsh Wound Innovation Centre and had an honorary clinical contract at Cardiff and Vale UHB.
She is a leading authority on wound care and has worked closely with organisations such as NICE (National Institute for Health and Care Excellence), EPUAP (European Pressure Ulcer Advisory Panel) in developing instrumental guidelines. In 2020, Jacqui was recognised for her services to wound care with an OBE (Order of the British Empire) in the Queen's Birthday Honours list.
---
Neesha Oozageer Gunowa:
Neesha has worked in Higher Education since 2014 and has held posts at the University of Surrey, Kingston University and at St George's University of London.
Neesha's research relates to diversity and inclusion in clinical practice, which is influenced by her background in primary and community care having been an Associate Matron and District Nurse at a large South London integrated Trust.
She has more recently developed a national and international reputation, becoming a member of the National Wound Care Strategy Programme. Her work has been recognised by numerous, highly reputable nursing organisations, including The Florence Nightingale Foundation and the Honor Society of Nursing, Sigma.
---
Luxmi Dhoonmoon:
Luxmi has a passion for wound care, which is recognised by her role as a Tissue Viability Nurse Consultant working for Central North West London NHS Trust.
Within this position, Luxmi leads a team of Tissue Viability Nurses and Nursing Assistants to deliver a seamless service across the community both for ambulant and housebound patients and also in care homes and mental health settings.
In 2010, she completed her BSC (Tissue Viability Pathway), followed by a MSc Advanced Practice in 2013 from St George's University of London. Luxmi is now enrolled in her 3rd year of a PhD in Nursing studies with University of Nottingham with the aim to develop her clinical research further to improve public health and lower limb care in the community.
---
Hear from all these experts in Medstrom's webinar Dark Skin Tones: Knowledge & Skills for Accurate Assessment. This session is CPD-certified for 1.5 hours, which can be put towards revalidation. Watch the recordings HERE.